CLICK HERE on HOW TO USE THE CHATROOM READ THE WORDS in the CHATROOM PICTURE FOR INSTRUCTIONS:

*
---
I have the SERVER for the new, registered ICQ ACTIVE LIST GROUP "DOWrats"*
I don't consider myself a support group leader and this is not a new, organized support group...merely a universal, unbiased communication medium for ALL victims. I just took the liberty of creating it and setting up the server. I am clearly NOT qualified as an expert in ACTIVE LIST management, but I am learning. I am a victim ( as YOU ARE) who would like us enabled to find one another online, if necessary-more quickly than newsgroup postings and in REAL TIME.
INSTRUCTIONS:
If you don't have icq, then PLEASE get it by going to http://www.icq.com . It is such a wonderful FREE program.

If you currently have icq, be VERY sure you have the newest version (presently icq99b ).

Go to : http://www.icq.com and download.

It is quite simple to install, as it will ask you to convert your old data base as
you are installing and you will want to say yes so you won't lose your existing contact list.

Once you are on the new version, you MUST go to the ADVANCED MODE.

(NOTE-If you have a MacIntosh Computer, the 99b version is not yet available, but you CAN get the one that is, and manually add the members to your list until it is available to you. - Contact me for a list of members until the activelist feature is available for the MacIntosh computer and can add the ACTIVELIST "DOWrats" as a group. If you notify me, I will tell you how to make category on icq and enter the members manually, and alert me to the fact that you have a "mac" I will make sure you get the important announcements as well)




HOW TO ADD THE ACTIVE LIST GROUP

1. Click on the yellow

button and you will see the option ICQ ACTIVE LIST. Click once on that and click on SHOW ICQ ACTIVE LISTS
2.Then, click FIND/ADD AN ICQ ACTIVE LIST ( a window will open that is a search engine for ACTIVELISTS)
NOTE-You can't get this active list by just typing the number using the regular ADD USER button!
3. Type in the ID number: 51441273 and click NEXT. (see below)


4. It will search and show the hitated group, (see below) click NEXT.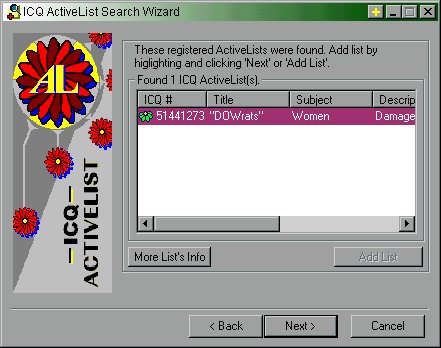 It will add open the window to request membership, and when authorized it will add the button for "DOWrats" to your icq panel in the active list area. Please include a little info about yourself so I will know you as an "sister" implantee. (this information is NOT public)
Do not worry if you log onto icq and the list server is not open. Be patient with me if it is not active everytime you log onto icq. Eventually it should be open 24 hours a day.
As soon as it is open, it can be set to connect automatically when you log onto your regular ICQ, or , if you prefer you can manually click to join the list as you feel you want to.
You will see the light turn green when DOWrats ACTIVE LIST IS ONLINE
When you click on the button for DOWRATS, you will see the members under it. You will also see a list of options, just as in your old contact list.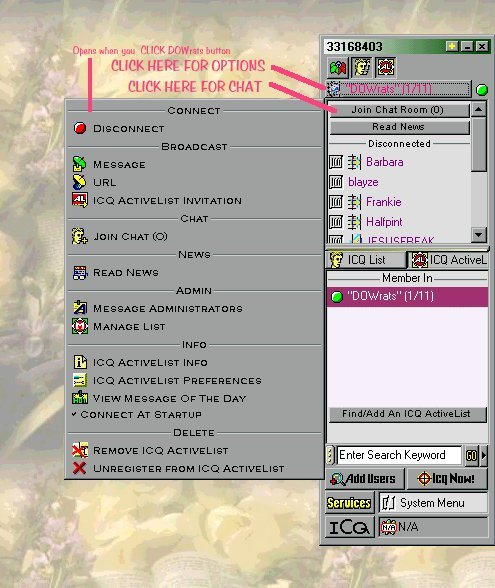 READ NEWS BUTTON is also under the DOWrats Main button.
Adjust to see both your existing icq contacts, and the listgroup contacts at the same time--or one or the other. Don't be afraid to play with it. This is done by toggling the 3 buttons on top of panel.

.
Thanks for your interest and hope to see you there! If any of you have further problems or questions, just add my regular icq ID number to your list and message me and I can help you on the spot when I am online, or you may email me personally at any time.
My personal icq#: 33168403
*Again, I am NOT the LEADER of this group, I am merely the owner of the SERVER for this wonderful group of people...this group belongs to YOU implant victims/survivors! I have opened this ACTIVELIST for the express purpose of BEING YOUR SERVANT as much as I possibly can, and as much as my health permits.
Jeena aka Elza